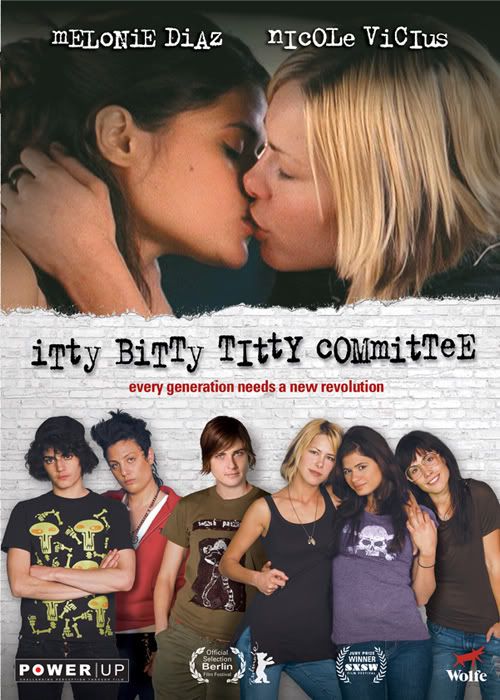 This is the fifth installment of a feature we call "Harpy Cinematical Society," in which we watch a movie (new or old) en masse (…or not) and then replicate for you our subsequent discussions about it.  Or thoughts, as the case may be.

After the holidays, the Dude went to see his family for the better part of a week, and I held down the fort with my kitties and my favorite time-eaters:  reading, cooking, eating what I cooked, and trolling Netflix Instant for movies that I forgot I ever wanted to see, late into the night.
During those days, I managed to finally watch Teeth, which SarahMC and reader bluebears already dealt with, but I also happened across two feminist indies, both recent, both set in/around Los Angeles, that I thought merited some word-of-mouth:  Disfigured, and the brilliantly (if not very aptly) named Itty Bitty Titty Committee.
Some blurbs, then some ruminations.
IBTC is "a lesbian rock and roll romp about Anna, an insecure, apolitical girl who encounters a radical political art group, falls in love with its leader, Sadie, and transforms from a girl into a womyn… "  The group, Clits In Action, culture-jam around LA, while falling in and out of bed with each other with all the drama and heady glee you would expect from a bunch of college-age women.
IBTC is more than a little artful, with its Usual Suspects line-up of rad-femitude:  the artsy butch, the rock-n-roll boi, the  femme, the man-eating (mostly) straight girl, and the wide-eyed baby dyke.  IBTC takes lesbian existence and acceptance for granted, and not just among the glossy liberal types, which is as nice to see as it is rare. While relying on a number of harmful stereotypes (a nearly-unbridgeable divide between 2nd and 3rd wavers, the curse of Lesbian Bed Death, cartoonishly naive political statements), IBTC is a rollicking good– if entirely implausible–fairytale of feminist-lesbian triumph.
Disfigured left me with more reservations.  It tells the story of an unlikely friendship between two women:  Lydia, an overweight woman who is part of a Fat Acceptance group, and Darcy, a not-yet-recovered anorexic, who attempts to join the group as a way to accept her own body.  They warm to each other slowly, and their personal demons surrounding food, weight, and body image simultaneously bring them together and keep them apart.  When Lydia gets involved with a (n overweight) man who decides to undergo weight-loss surgery, she asks Darcy for "anorexia lessons."  Bad Idea Jeans.
Disfigured might be seen to glamorize ED a bit, providing more than a little pro-ana info, even though Darcy is ultimately shown to be far more of a mess than her sleek, polished exterior reveals, and Lydia comes across flawed, but ultimately stable and self-accepting.  Disfigured rings true enough that the maxim "every woman has an eating disorder" flies to mind (even though I don't actually believe that), and that our obsessions with our bodies and our relationship with food are dysfunctional on both ends of the spectrum.  Indeed, that that spectrum is really more like a loop:  Darcy and Lydia are far more alike than different.
Even though both films have their flaws, I think supporting films about women, created by women, with all kinds of great roles for women, it worth it.  If you're part of the Netflix Nation, you can watch them any old time (even right now!) through their Watch Instantly feature.  If you're not, the two links above should give you info on where you might find it.
I'm really just scratching the surface here; have any of our readers seen either of these films and care to, uh, weigh in?  A "society" of one leaves a bit to be desired…