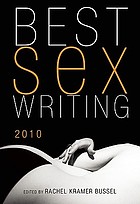 When a friend of mine gave me a gift certificate to a local bookstore for my birthday, I immediately knew what I would buy with it: Rachel Kramer Bussel's anthology Best Sex Writing 2010. None of my local library networks (yes, I belong to more than one) stock the series, and I hadn't been able to afford to purchase the book at cover price. So I ordered the book and then hoarded it as a treat until after I'd completed my thesis.
Was the book worth the wait? In my opinion, yes. I'd picked up Best Sex Writing 2009 about a year ago and was really impressed not only with the quality of the selections, but the fact that this was an anthology that was willing to take up the issue of sex and sexuality in human lives in a way that didn't package itself as erotica … yet was undeniably erotic in some respects. Not that I have anything against sex writing for the sake of fueling fantasy; nor do I dislike discussions of sexual health qua sexual health. Bussel's series, however, meets us where the rubber hits the road (or, more apt in this case, one's bits): Best Sex Writing gathers up the best non-fiction text about human sexuality in our culture for the previous year and delivers it to us in one delicious anthology to read at the beach.
Or in my case, on my parents' couch.
It's always difficult to choose, when writing about anthologies — particularly anthologies involving sex — what the highlights of any given collection might be. The essay that surprises or pleases or angers one reader could very well have the opposite effect on the next. Sex is just that personal (as we've discussed in previous threads). However, the one thing I think it's safe to say about the 2010 anthology is that somewhere in it, someone will cause you to think in new ways about what it means to be a human being in relation to these constellation of thoughts, feelings, and actions we call "sex." It might be Diana Joseph ("The Girl Who Only Sometimes Said No") musing about how to discuss the concept of "slut" with her eight grade son. It might be John DeVore ("What Really Turns Men On") writing about what his "type" actually is, and the ways in which that type does and does not match up with popular imagination. Perhaps the essay that will really stop you in your tracks, the way it did me, will be "It's a Shame About Ray" (Kirk Read) which explores what happens when a sex worker and a client come together … and the hired hand goes away wistful that the encounter was just a business transaction. Two pieces that complement one another nicely are David Black's ("Hot. Digital. Sexual. Underground.") and Monica Shore's ("Piece of Ass") both of which explore the dynamics of swinging, open relationships, poly … whatever your designation of choice. While Black writes from the perspective of a journalist documenting a social phenomenon, Shore describes her flirtation with a couple whom she ultimately turned down because she felt they emphasized technical skill over human connection.
My time with Brian and Stacey was unsatisfying in a way I didn't understand. I wasn't a stranger to casual sex and I didn't feel responsible for their miscommunication. It was something trickier than that. I wanted to blame it on their penchant for the pornographic, their obsession with choreographing each moment to mimic a magazine spread instead of just letting things feel good. Even Stacey's orgasms were treated like interference. At one point she bleated out "Came!" and immediately returned to fingering herself. Nothing was savored. Nothing flowed.
Some of these pieces are deeply personal, some more journalistic. Judith Levine, author of Harmful to Minors challenges the moral panic over teenagers engaged in "sexting"; Christine Siefert explores the popularity of the Twilight series through the lens of erotic literature, suggesting that Bella and Edward's story might owe its success to what she terms "abstinence porn" … and then suggests that the line between "doing it" and "refusing to do it" in erotica might be a thinner one that we would otherwise assume. Some find a subtle balance between documentary and memoir, as in Paul Krassner's "Remembering Pubic Hair," in which he chronicles the rise of shaved ladyparts at the same time as he shares his own affection for women who continue to go au naturale.
If none of these sound like the thing for you, you can read Bussel's introduction to the volume, and read a full table of contents over at the series website. And if none of this years' selections are your cup of tea, then check out volumes 2005-2009.