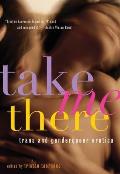 I've been thinking a lot lately about what I think erotica does — and why I enjoy it — beyond the obvious "fuel for sexual fantasy" it provides. In part this is because I've been writing erotic fan fiction of my own (what can I say: I got frustrated by the dearth of fan fiction with satisfying and explicit female pairings). There's nothing like trying to write your own erotica to get you to start thinking about what you like in your porn — and why. It's also because I've been reading a lot of porn, both in the world of fan fiction and otherwise.
There's no simple answer to the question: "What am I looking for in porn?" At least, no simple answer for me. Sometimes, I'm looking for erotica that tells me stories about pleasure wholly unlike anything I would ever want in real life: dom/sub relationships, bondage, sensory deprivation, pain. In real life nothing turns me off faster than feeling trapped and out of control of my bodily experience; in erotica few things turn me on more quickly or reliably. Yet catch me on the wrong day and a story about BDSM is going to make me feel claustrophobic — and what I want more than anything is an established relationship, early morning kissing fic in which (as Hanna and I like to put it) "everything is gay and nothing hurts."
Most recently, I had a chance to think about these questions in the context of Tristan Taormino's latest erotica anthology, Take Me There: Trans and Genderqueer Erotica (Cleis Press, 2011).
According to Taormino, in a recent interview with Sinclair Sexsmith, Take Me There is only the second erotica collection to center on trans and genderqueer characters. I think my self-presentation likely speaks for itself, but I should probably say up-front that I identify neither as trans or genderqueer. I am comfortable with my assigned sex at birth (female) and with moving through the world as a woman who generally lives within the bounds of acceptable femininity. When I use the word "queer" for myself, I'm speaking about my fluid sexual desires and the fact that I'm in a committed lesbian relationship. While I am friends with several people who identify outside of the sex and/or gender binary, I have never been in an intimate sexual relationship with someone who experiences their body or identity in this fashion. Therefore, I feel ill-equipped to say how well Take Me There represents the myriad variations of trans* and genderqueer experience with relational sexuality.
Instead, what I found myself thinking about as I read the contributions to Take Me There are all of the ways in which successful erotica operates in much the same way as any successful piece of creative writing: by using the particular to gesture toward — or connect the reader to — the universal experience of being human. I know there are (and should be) exceptions to this definition of good writing as "evoking the universal in the particular," but I'd like to run with this as a working definition for the moment. Basically, what I'm saying here, is that short stories like the ones contained in this collection hold in creative tension the unique aspects that make them relevant to an anthology devoted to trans and genderqueer narratives and the characteristics of sexual connection that speak to a much broader population of readers.
On the one hand, it's urgently necessarily to represent the specific experience of specific people and specific types of bodies and minds — bodies and minds that have been largely absent from our collective erotic expressions. On the other, the relevancy of which specific combination of bodies and minds we talk about in any given story ultimately gives way to common yearnings for sexual pleasure, for emotional connection, for the joy of knowing and being known.
The joy of knowing and being known. This is my current answer to the question of "why erotica?" I've realized that my favorite stories — trappings aside — hinge on that moment of radical acceptance when two (or more) people become, metaphorically and actually, naked before one another — and all of the terror of rejection or fetishization, of being judged and found wanting, washes away in tenderness. Whether it's an anonymous fuck or a thirty-year relationship, whether being known means being suspended in mid-air and spanked or demands languorous love-making at dawn (or both!), relational sex involves stripping ourselves bare, making ourselves vulnerable, being brave enough to expose our humanity in the presence of someone(s)-not-us. As sex columnist Sugar wrote recently over at The Rumpus:
You have to find a way to inhabit your body while enacting your deepest desires. You have to be brave enough to build the intimacy you deserve. You have to take off all of your clothes and say, I'm right here.
Take Me There offers us a number of these "I'm right here" moments. I'm sure any reader who picks up this anthology would be able to compile their own list, but I'll offer you a few of my own particular favorites. In "Now, Voyager," Rahne Alexander brings us the story of a trans woman struggling with when and how to explain her body and her history to a new lover — only to find that he's figured things out on his own, and is eager to explore her naked form in all its uniqueness.  Julia Serano, in "Small Blue Thing," offers the story of her own experimentation with viagra when she first met her wife — and how she discovered it wasn't necessary for their mutual pleasure. "The Visible Woman" (Rachel K. Zall) is a wonderful meditation on body confidence, told through the eyes of a trans woman who admires her girlfriend's open defiance of cultural expectations:
A stranger would call our bodies gender ambiguous: her cock about to enter me, my clit poking out of her fist, her tiny breasts on her large rib cage and the shadow across my cheeks and chin. A stranger would say that, and that stranger would be wrong: our bodies aren't ambiguous at all, only the meanings people misapply to them. She's a woman and her beautiful body is a woman's body; I am a woman and seeing how beautiful her body is makes me think my body might be beautiful too (145).
In what might be my favorite story in the collection, Patrick Califia tells the story of a gay man home for Christmas in the small town where he grew up, falling in love with a young trans man he meets at the local gay bar.  Through the alternating voices of the two protagonists, "Big Gift in Small Boxes," is an exquisitely-contained story of an eager one-night stand that opens up — in the space of about 48 hours — into something neither man expected: a potentially long-lasting relationship. I particularly liked the way Glenn (the older gay man) works through his uncertainty that he's going to be okay with Owen's body, and the amazement Owen feels at enjoying physical activities he'd detested with other partners in the past.
At times, this collection is likely to feel disorienting — even alienating, depending on how you react to the unknown.  As Taormino observes in her introductory essay, "Be prepared for cock to have multiple delicious meanings … for what you might think is a pussy or a cock to be called something else entirely" (xiv). Personally, I found myself less frustrated by the unexpected identities and pronouns than I was by the prevalence of stories where characters were consciously role-playing specific relationship dynamics — something I often feel takes me out of the being known mindset and makes sexual intimacy seem staged. For some folks, this type of scene-setting is a powerful way to become known — but it's just not a genre that turns me on. Unfortunately for me it seems to be a dominant trend in lesbian erotica these days — but perhaps it's not such a bad thing after all, since my frustration with those storylines is nudging me ever-faster into a determination to write something different! I'll let you know how that goes.
In the meantime, head on over to an online or brick-and-mortar bookstore, or open-minded library! , of your choice and check out Take Me There. I hope it's only the first of many trans and genderqueer erotica collections to come.